Disclaimer
Right off the bat, I'm not affiliated with Avira in any capacity, and the views for this case study are strictly my own. Since I don't have full access to all the user data that influenced their current design, this case study is not fully comprehensive. This case study was done to enhance my learning experience and challenge myself to redesign it to serve a specific purpose.
Introduction
Avira Antivirus has a history of more than 30 years protecting people in a connected world. Avira Antivirus Free and Pro are the main and most sold product of Avira portfolio.

Recently, the UI of the Antivirus got a new look and feel and was connected to the Avira Connect which is the central platform for all Avira services and products.

Avira antivirus helps users to manage all protection layers in order to keep the computer safe against threats from the internet.
Why this Redesign? The Problem / Challenge
In these years, even if Avira have updated the UI, there are many usability challenges:
Free users don't understand the potential of paid protection layers of the Avira Antivirus
Outdated parts (Scans, configuration) which are not upgraded to the new design concept yet
User feedback is not reliable and takes a lot of time
UI Inconsistency due to lack of Style Guide and or Design system
After this exploration, I set out to reimagine the Avira app and improve the experience in any way I could
Goals and Motivation for redesign
My goals for the redesign:
Improve and redesign the app to make it visually compelling and consistent
Create a style guide to minimize visual discrepancies and communicate the Avira's branding style
Communicate clearly about the advantages of upgrading to pro version (e.g. "Avira Prime")
Integrate a vision about how the "Quick scan" scanner should be redesigned and integrated in the main UI
Create a perception of the main view where customers have a better understanding about the Antivirus status and management, improving the user experience
My personal goals:
Take full ownership of the various roles involved in designing a product such as a User Researcher, User Experience Designer, UI Designer, etc
Enhancing my learning experience by challenging some design decisions and addressing their solutions
My role:
User Research, User Interviews, User Journey, Information Architecture, User App Flow, Wireframes, User Testing, Prototyping and Visual design
Tools:
Miro, Xmind, Axure RP Pro, Adobe XD
App Analysis / Ideation
Since I had already used the app and had some idea about it, I decided to do an in-depth analysis of the app first. I also visited several blog posts, discussion threads, app reviews, and gathered the pros and cons of Avira compared to its other competitors so that I can understand the functionalities, overall architecture, and navigation.

Through the analysis, I was able to identify some clear usability issues and pain points. Then I sorted the gathered information and identified the problems. It also helped me in understanding the user perspective of what exactly they wanted. I also took the screenshot of every screen and made note(s) of those issues.

Below are a few problems that I faced when I did some analysis of my own:
Avira's branding in UI has not been followed
The app failed on several WCAG 2.1 success criteria including the following:

Color contrast ratio
User feedback and Error suggestions
Keyboard friendliness

Graphics and iconography is not consistent
UX copywriting is not shown based on the context
Users are not getting proper feedback and confirmation for critical tasks
Warnings and errors are not clearly differentiable
Inappropriate use of Colors based on the contexts
Button states design and position are not correct
UI is a bit hard for new users so it needs to be more user-friendly
Understanding the users
According to Avira, more than 560 million installations have already been made worldwide.
User Interview
I started my user research by conducting user interviews with 5 users, which vary from daily active users to infrequent users of any antivirus app to understand what motivates or demotivates them from using antiviruses.

I conducted an onsite field trip - user interview for this case.

The male interviewees' age ranged from 19 to 49 years old, while all 2 females ranged from 20 to 38 years old, which I felt was a fair representative of Avira's current user base.

Some key insights from the interview-
The participants, who has antivirus installed in thir machine, scan their computer two to three times a week, mostly when they open the laptop and gets some sort of notifications
Participants said that notifications grab their attention, and eventually, they end up opening the app while some even felt that endless notifications could get annoying
Participants prefer Quick Scan than Scheduled scan and Full Scan
Quick scan is their most used feature
The participants said that they want their app to be customized but would always want to be aware of vital information such as Virus detection, Quarantined and or new updates
I also started looking for reviews on Avira's customer support page. There were not many UI/UX related support cases but luckily did find a few on other websites.
Usability Testing
After the user interview, I asked the same participants (5 participants) to test the Avira Free Security app (Virtually and in-person Usability Testing). I wanted to see how they would interact with the app's features. (2 out of 5 participants had not used the app before. I also wanted to test the app with someone totally new to it, so I asked them to download and use the Avira Free Security app for 1 week)

Some of the tasks that I gave them during the testing were:
Download and install the app from Avira's official website
Open the app and scan their computer for malwares or threats
Turn on/off the notifications settings
Find out if they found any viruses while scanning and where they can find it
Watch a video that you find interesting
Find out what they can get for free in the freemium version
Schedule the scan everyday at 09:00pm for a week
Competitive analysis
Note: Since all the following apps require a premium subscription to have full access to the key features, it got challenging to figure out features they hold. Though I tried researching the freemium features and what each app offered, this analysis may lack some of it.
I did the Competitive Analysis by listing all the essential features in a structured tabular format to identify the competitors and mapping out their strengths and weaknesses.
Antivirus
Specification
Pros
Cons
Avira AntiVirus Free

Email scans: Yes
Game mode: Yes
Password manager: Yes
Ransomware reversal: Yes
Scan scheduler: Yes
Support options: FAQs, forums
Safe shopping: Yes
File shredder: Yes
Privacy settings: Yes
Real time protection: Yes
Phantom VPN: Yes

Great value with exclusive deal
Impressive anti-phishing and web protection
Configure as you like it
Outstanding results in lab tests
Protection from ransomware
Intuitive user interface
Integrated VPN
Useful browser extensions
Extra mobile features

Might report false positives
The free version lacks the web protection feature
Delayed response times from customer support
Slow on-demand scan.
Browser protection only for Chrome and Firefox.
Real-time protection missed some malware EXEs, identified some valid programs as malware.

Kaspersky Total security

Email scans: Yes
Game mode: Yes
Password manager: Limited
Ransomware reversal: Yes
Scan scheduler: Yes
Support options: FAQs, forums

Top-notch malware protection
Tiny performance impact
Tons of useful extra features

Password manager, VPN service are just teases
Lacks phone support

Bitdefender Plus

Email scans: No
Game mode: No
Password manager: No
Ransomware reversal: No
Scan scheduler: No
Support options: FAQs, forums

Very good malware protection
Completely automatic interface
Truly no muss, no fuss

No extra features whatsoever
No quick scans or scan scheduling

Windows Defender

Email scans: No
Game mode: Yes
Password manager: No
Ransomware reversal: Yes
Scan scheduler: Yes
Support options: 24/7 phone, email support

Very good malware protection
Built right into Windows 8.1 and 10
You'll barely know it's there

Some features work only on Microsoft products
Hard to schedule scans

Avast Free

Email scans: Separate tool
Game mode: Yes
Password manager: Yes
Ransomware reversal: Shield only
Scan scheduler: Yes
Support options: : FAQs, forums

Wi-Fi scanner, password manager
Very customizable

Slow scans
Mediocre malware protection
Heavy system hit during scans

AVG Free

Email scans: Yes
Game mode: Yes
Password manager: No
Ransomware reversal: No
Scan scheduler: Yes
Support options: FAQs, forums

File shredder
Lots of customization options

Middling malware protection
Slow full-system scans
Almost no extra features
Ideation
Affinity Mapping
Next, I compiled all the feedback, insights, and pain points listed above and grouped similar ones. This helped me brainstorm and develop potential ideas and gave a clearer view of what was important to users while keeping in mind the business goals and objectives.
Information Architecture / Site map
With the ideas more or less crystallised, the next activity was to develop an information architecture and think about making a user's journey through the app seamless. I then created a content taxonomy map, to give meaning to the defined features, and a sitemap to organize the pages, information, and navigation of the app.

I also created a user flow for the key tasks within the app: Scanning, Upgrading, Scheduling the scan, Review Quarantine and Delete threats, etc. By going through the flow of the key tasks it helped me to think through the core activities and ensure a seamless process from all perspectives.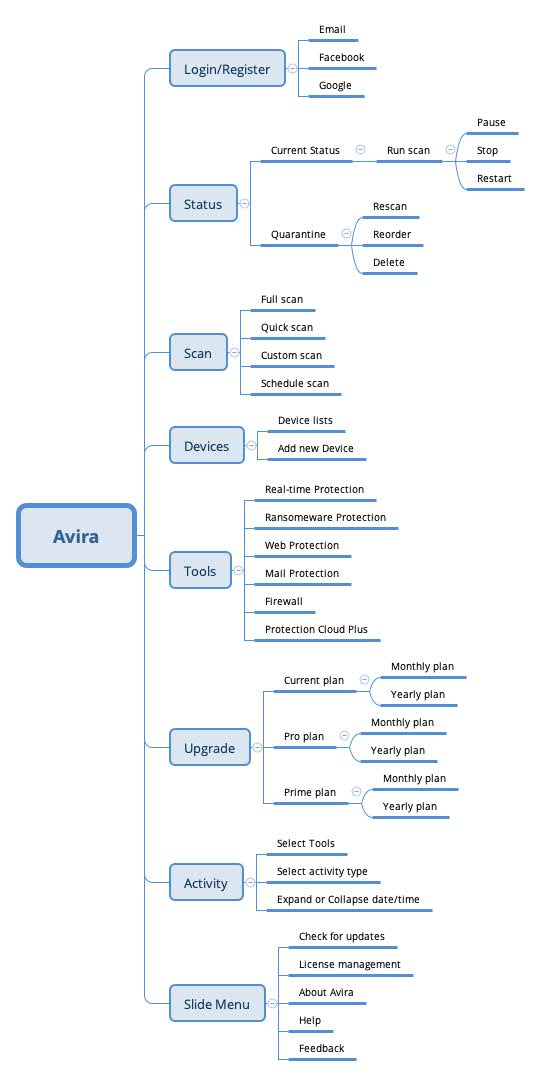 Wireframe
For wireframes, I carefully went through the UI of Avira app and its competitors. After making some observations, I sketched out all the possible layouts and finally came out with the one that worked the best. This allowed me to prototype solutions for the main screens before committing to high fidelity designs.

Now that I had a better understanding of who I was designing for and felt equipped with my background research, I moved on to the good stuff!
Visual Design
As I thought about how a user would move through the app, I designed each visual touchpoint to follow consistency and create delight. I followed common interaction patterns that users are already familiar with to make for an intuitive user experience.
Learning
This was a really exciting and fun project for me to work on as it provides real value, involved a ton of research, and detailed interaction work. I learned some important takeaways from this project related to product and business processes.